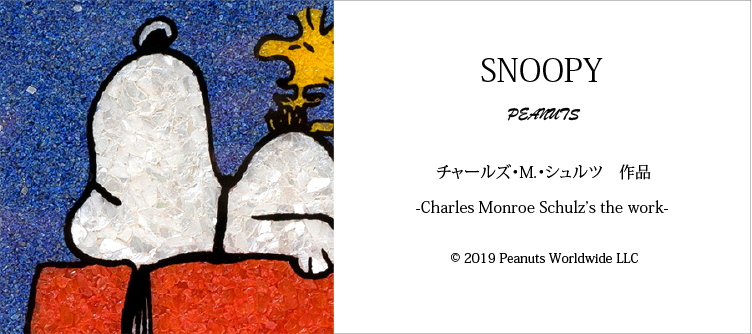 Charles Monroe Schulz
The comic "Peanuts" written by the American manga artist, Charles M Schulz, was begun serializing in seven American newspapers on October 2, 1950. Unique characters such as Snoopy and Charlie Brown quickly became popular. In addition, it has established a powerful brand which has a big impact on the world with its attractiveness as art and universal message.
More than 60 years after its birth, comics "Peanuts" are still published in 2200 newspapers translated into 21 languages ​​in 75 countries. In addition, animation has become a seasonal tradition and is also offered as a product through various distribution channels. "Peanuts" also have a lot of influence on modern culture as an icon of pop culture. Motifs such as Charlie Brown playing football, Linus with blanket and Lucy snuggling up to Schroeder's piano, and also famous phrases such as "Security Blanket" and "Good Grief" appearing in "Peanuts" are rooted from this comic. 

Introduction of main works
SNOOPY Dog House 
Jewelry Art created by laying genuine natural stones by skilled craftsmen.
"SNOOPY Dog House" is a very valuable painting that uses luxuriously the popular lapis lazuli, so only 100 serial numbers are manufactured.
Unlike ordinary paintings which are said to be sensitive to heat and ultraviolet rays, jewelry pictures have the characteristic that is not easy to fade because of the use of natural stones. It is a amazing collabo suitable for works of  "Peanuts" that still has much brilliance over time.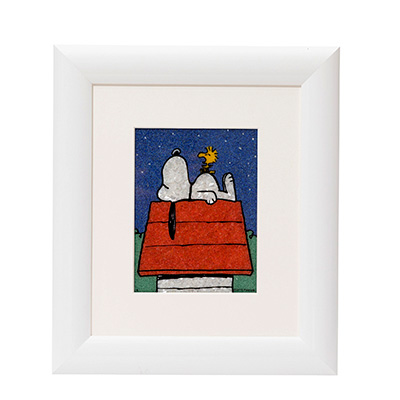 Product Name

SNOOPY Dog House 

Mainly used jewelry

・Carnelian(natural quartz)
・Rock Crystal(natural quartz)
・Lapis Lazuli(natural lapis lazuli)
・Mother of pearl(natural shell)
・Aventurine(natural aventurine)
Other work series