What's OSMAU TEZUKA Jewelry Pictures?
Our jewelry picture is created by spreading about 30 kinds of natural jewels all over based on the color original picture of Osamu Tezuka. We always seek to produce each piece for high quality supervised by TEZUKA PRODUCTIONS. 
To Tkarazuka City (Hyogo)
OSAMU TEZUKA Jewerly Pictures Phoenix
Phoenix is a symbol of revitalization of the Great Hansin-Awaji Earthquake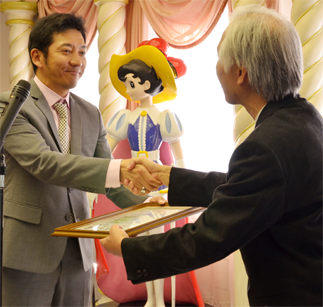 The year of 2014 is called as "triple year" in Takarazuka. 
There are three commemorates for 60th anniversary of Takarazuka city, for 100th anniversary of the Takarazuka Revue that women play all roles in Broadway-style, and for 20th anniversary of the Osamu Tezuka Manga Museum. Therefore, we were willing to celebrate together and presented a jewelry picture of Phoenix.
Phoenix is a symbol work of reconstruction when the Great Hansen-Awaji Earthquake occurred in 1995. The reason we picked up this story among Osamu Tezuka's works as a present to Takarazuka city is because we consider the connection with revitalization. 
Phoenix is planning to exhibit permanently at the royal palace-style entry hall of Princess Knight in the Osamu Tezuka Manga Museum. It is an honor that our product Phoenix welcomes everyone visiting form all over the world.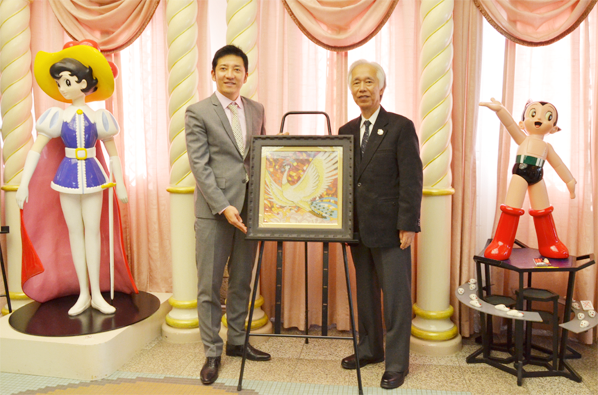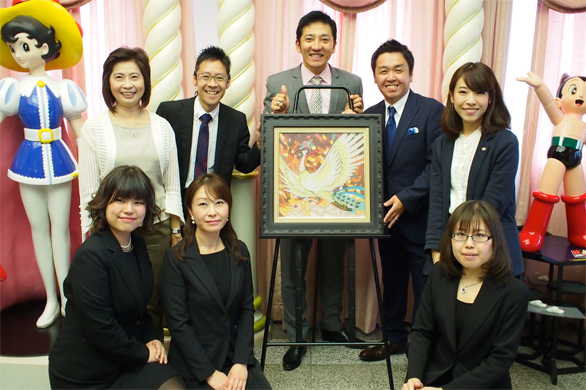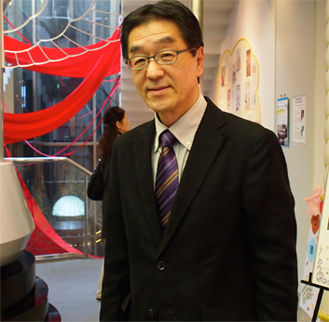 "Thank you for giving us such a meaningful work."
---
I'm grateful for this present of jewelry picture. A message put in Phoenix has stronger wish among more than 700 Osamu Tezuka's works. Phoenix is a work which convey a universal message such as the precious of life and love to readers. Furthermore, it is known as a symbol of reconstruction to encourage many people when the Great Hansin-Awaji Earthquake happened. I was impressed when I knew the power of Phoenix and saw the jewelry picture created by sophisticated techniques. I am beyond honored to receive this present. I will display the jewelry picture with respect and hope that the message reaches to guests when they see it. 
The Osamu Tezuka Manga Museum

Curator: Takeshi Maekawawa
 This topic of presenting "Osamu Tezuka Jewelry Picture" was introduced by the mass medias such as newspaper and TV.
Memorial Seminar was held to convey a message of Osamu Tezuka, the precious of life.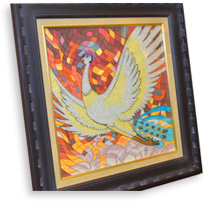 Thank you very much for a lot of visiting!
We moved to a restaurant Chandelier Table in HANKYU Umeda Store after presenting our product Phoenix to Takarazuka city and hosted a seminar and a get-together. People who are strongly related to Osamu Tezuka and business experts gave a speech there. 
Some contents of their speeches and interviews are described below, excerpting from all of talks.
Introduction of some speeches and interviews
Impressed this amazing collaboration between manga and jewelry. 
Tezuka Productions Company, Limited
CEO: Takayuki Matsutani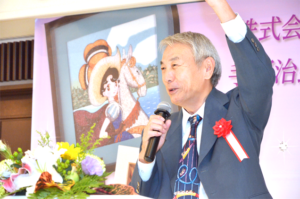 I was worried that Tezuka's works would be painted by jewelries. I thought the manga did not go well with the jewelry at the beginning of  this project. I wondered that characters of Tezuka would not be able to commercialize with a high quality that everyone can be convinced.
However, I saw the actual product today for the first time and I am just so impressed the wonderful completion. I was not expecting jewelries had such a exquisite expression. 
People might have a incompatible impression of OSAMU TEZUKA JEWELRY PICTURE as I used to be. Because of this project, Tezuka's works will be boosted and Jewelry will be felt a closeness. I wish the work will further develop for the better.
---
The Jewelry Picture is an artwork expressing a theme of my father. 
Osamu Tezuka's second daughter
Chiiko Tezuka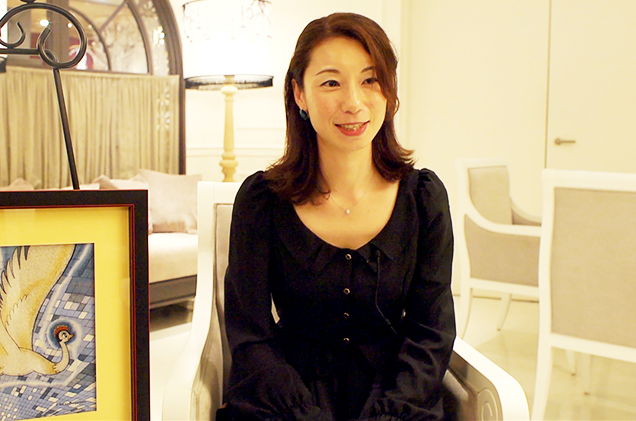 I was very excited how to create a jewelry picture when I heard a project of OSAMU TEZUKA JEWELRY PICTURE for the first time. I thought what a beautiful and wonderful artwork the jewelry picture was when it was completed. Jewelry is lasting forever so it can express my father's theme, the precious of life. There are 19 paintings and I would like to see more works created using other characters, too. And then, I would like many people to hang them on the wall in your room. I hope this product including my father's will would be passed down for generations as a family treasure. 
---
A collaborative work between characters and jewelries.
Digital Content Association of Japan
Managing Director: Kensuke Ichihara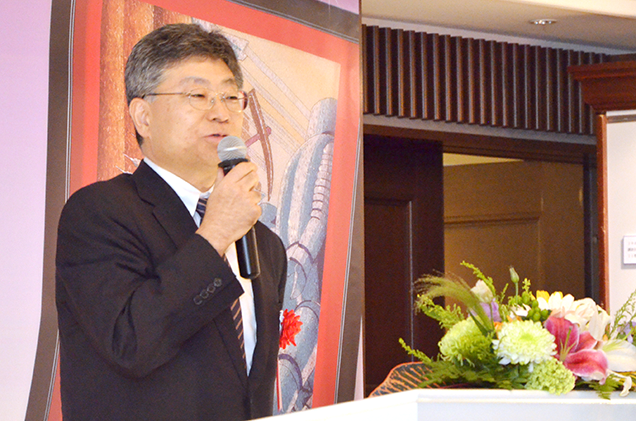 I was very moved that the Osamu Tezuka's work was sparkling beautifully for the first time.
Even though some have tried and come up with a collaboration between characters and jewelries ever, it was the first time that jewelry pictures   created using a special brand like Osamu Tezuka fascinating many people worldwide and got a permission of the use of Tezuka's original drafts. Also, it is the first time that the jewelries are used with tracing faithfully Tezuka's works supervised by Tezuka Production. 
Considering from the perspective of Tezuka fans, this is an ideal business model to combine own favorite character with their things. 
This idea is a fresh and great idea to share happiness to a lot of people. I am looking forward to seeing a expanse of this project!
---
I think this is the best collaboration ever.
Japan Jewelry Business School
Principal: Kenichi Hata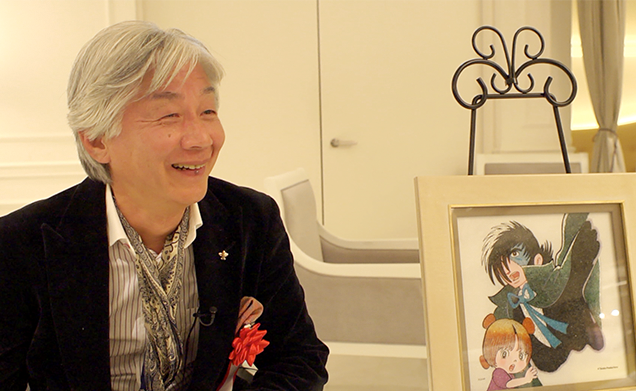 I love the world of Osamu Tezuka so that I'd like to become this wonderful project come a reality from my bottom of heart. Apparently, the jewelry does not seem going together well with the animation and they have totally different roots. However, both have same roots in Animism, which is a strong belief in a spiritual life in natural objects, natural phenomena, and even in the universe. The world of Tezuka taught us the precious of life and the jewelry has the power to express it clearly by glittering variously. Therefore, this collaboration between the animation and the jewelry can be a best one ever. Tezuka's works created by a eternal theme of the precious of life was filled with timeless jewelry glows and got the endless life. Jewelry Pictures could empathize many people from all over the world and could be loved of all ages.
---
Approach from many national department stores.
Osaka City University
Professor in the graduate school: Katsuhiko Chika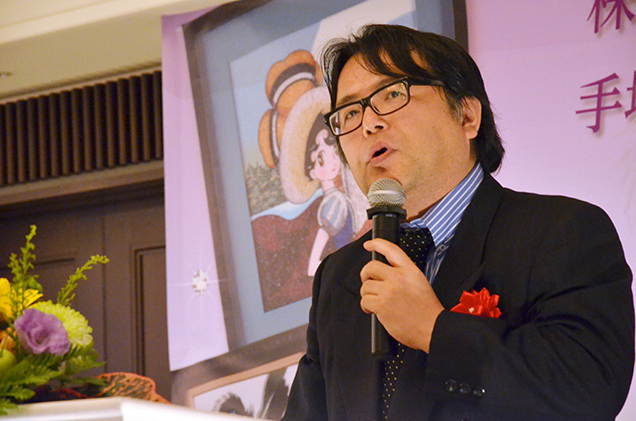 When I suggested OSAMU TEZUKA JEWELRY PICTURE to department stores, my suggestion of this project was actually declined at the beginning because such a merchandise has never been in any markets. People working at department stores said to me that they were not sure where to line up because the jewelry pictures were included a category of general goods nor jewelries. However, a lot of department stores representing Japan approached of deals later on. That means they considered the combination between jewelry and animation which is apparently regarded as a mismatch but having a strong enchanting power to human beings and it has a lot of possibility to succeed. 
---
Lead to founding BLACK JACK FUND.
Public Interest Incorporated Foundation, Child Chemo House
Bureau Chief: Masami Hagiwara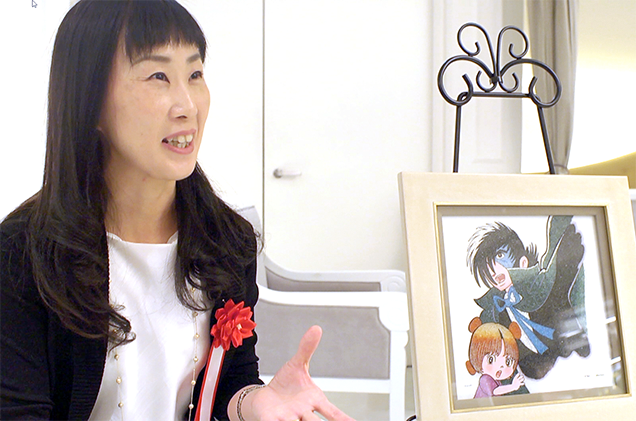 We are engaged in an activity supporting children who have pediatric cancer and thier families. Because our theme is heavy so that people have less opportunities to get to know this activity. Therefore, we really appreciate that BLACK JACK FOUND is launched this time and is known widely through OSAMU TEZUKA JEWELRY PICTURE because the sales of the jewelry picture will contribute to much support for children and their families.
<What is BLACK JACK FUND?>
 BLACK JACK FUND is a activity to donate a part of sales of the jewelry picture of Black Jack to children who are fighting against pediatric cancer. 
---
We will make the jewelry pictures wholeheartedly. 
Production Cooperate Company 
MS.WANLAYA SUWANNAPIROM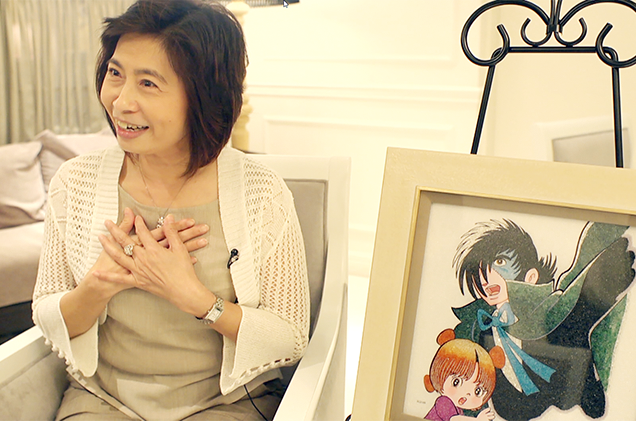 I am manufacturing OSAMU TEZUKA JEWELRY PICTUR. Today, I am so honored to be here. Thank you very much for inviting. We have been going through a lot of trial and error ever in order to pursue the quality of products. The jewelry picture is made with natural jewels, so no one is the same shape. Also, the expression which original pictures have looks different if you put jewels on the wrong place of pictures. To clear the subtle process was challenging. 
I am so moved to see the completion and customers' smile finally here. We will make them wholeheartedly. 
Photos on the day at venue.
Today, all of products of OSAMU TEZUKA JEWELRY PICTURE are exhibited and presented in front of a lot of guests. Thank you very much for coming all the way to visit!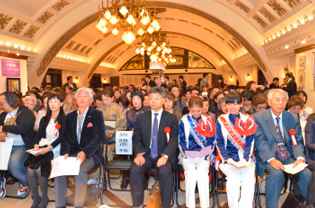 Many guests and dealing companies came from Kobe. Thank you very much.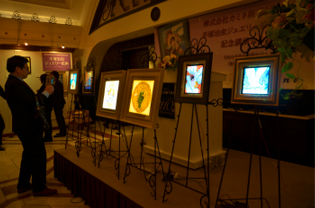 In the get-together party, Tezuka's jewelry pictures were illuminated glittery like stained glass.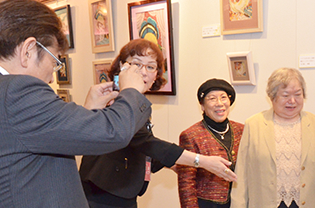 They are guests who took photos in front of the jewelry pictures. They seemed feeling nostalgic about the animation.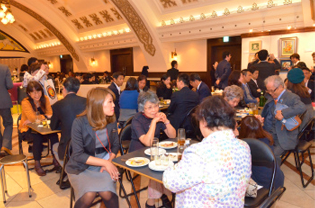 It was wonderful moment for staffs talking to you all.